Hello there.
Hey, I'm Jeremiah Palecek and I like to paint:)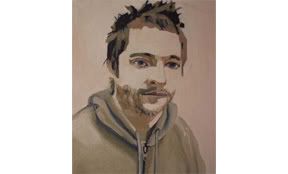 Etsy Stuff

Widgets
Free Hit Counter
Wednesday, February 22, 2006

I've been working on a larger painting, so I thought I would give you the step by step as to how I paint. I know you're not supposed to do this, but hey, some of you out there might be interested as to how I paint my larger pieces. Painting isn't really that hard as long as you take it step by step. So, anyway, first I start hunting down different images to collage together. For this painting I wanted to have a 1950s style housewife cooking and a kid pissing in the corner. These were easy to find, and so I slapped them into an kitchen. I use photoshop to make my initial collages, and as you can see, I don't pay much attention to the edges of the different images I cut out. I can fix these up when I start painting them onto the canvas.

posted by Jeremiah Palecek @ 10:03 PM


Previous Post
Archives
Links
Buy some prints
Say hi, or buy a painting:)
Poems I wrote while watching TV