Hello there.
Hey, I'm Jeremiah Palecek and I like to paint:)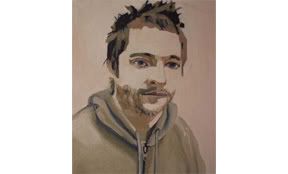 Etsy Stuff

Widgets
Free Hit Counter
Tuesday, February 28, 2006

chewy

posted by Jeremiah Palecek @ 5:05 PM


Monday, February 27, 2006

Many of you may already know that I also blog my dreams, and now I have decided to combine my dream blog with my normal painting blog. The above image was taken from a dream I had where there was a piercing going right through the top of my nose. You can view my entire dream blog here.



enjoy


I was in my friends house, and his little sister was taking a shower. she came out, and I was reading the nutritional information off of a trix box, but actually it was a box of nestle quick, I kept on staring at the rabbit. When his little sister came out of the bathroom she wasn't wearing a shirt, and I used the box to block her from my sight. she freaked out when I told her to put some clothes on. She went into the next room, and started screaming (15 year old style)at her father, he came into the house and was really cool. I went downstairs and talked to my friend, and I could hear them arguing upstairs. Her father was mad that she looked all messed up, and she was messed up because I knew she found some coke from a guy name Trix, she was also in love with him. Trix was also part of the "breakfast toast crew" up in vinohrady. They came downstairs where we were, and she saw some remnants of coke on a table, and instead of trying to hide it from her father she began putting it on her fingers, and then onto her gums. Her father said "I just wanted to take you all to applebees" and I was excited to get some food. I tried to talk to her father, but he said I was a good man, and that he always trusted me.


posted by Jeremiah Palecek @ 5:07 PM



So, as many of you know, I am a big star wars fan. Here is my attempt at a yoda doll. I made it for Jana for valentines day:) she was prety happy with it.

posted by Jeremiah Palecek @ 12:59 AM


Thursday, February 23, 2006

Since i now have the major shapes defined, I now begin to clean up the edges as I begin to repaint everything in oil. I work primarily in mid tones, and still I am paying more attention to trying to capture the form of the objects I m painting rather than the exact correct colors for everything. The underpainting provides a nice background on which the oils evenly apply themselves.

posted by Jeremiah Palecek @ 6:25 PM



Before I begin to paint the oil section of the painting, it's important to have a clean surface on which to mix colors. I use a dinner tray for a pallette, and scrape off the old paint with a razor blade.

posted by Jeremiah Palecek @ 6:25 PM


Wednesday, February 22, 2006

my poor little size 8 flat sable. I go through at least one of these a month.

posted by Jeremiah Palecek @ 10:37 PM


Blocking in major shapes, color, and value

I start off by blocking in large shapes, value, and color. I only use three colors (plus white) for all my paintings. Red, Yellow, and Blue. I do my underpainting in acrylics because they dry fast, and are easy to apply. I mix all my colors in a cookie pan. Believe it or not, I painted all of this one brush, a size 8 flat sable. My teachers always got annoyed that I wouldn't use more brushes, but I m annoyed with the idea of having to mix colors with a palette knife, then load up the correct brush with said color. I just dip my brush into the can of paint, slop it into the cookie pan, slosh it around until the color i want is achieved, then smear it onto the canvas. At this point I m not too worried about having anything perfect, this is just a rough sketch, the skeleton upon which the final work will begin to hang. as you can see, I have my laptop to the left of the canvas, as well as my nice little optical mouse. Using photoshop I can zoom in on my collage, and move around the original collage to see more information about what I m painting. I also always print out an image to hold in my hand, so I can look at it, and not take the 3 seconds it takes to look at my computer. To the right of my canvas you can see my cookie pan, and tubs of acrylic paint. You may be thinking that the hardest thing about this first step is the drawing element of it, and you're right, drawing is annoying, but hey, my only advice for that would be to draw. It's really the only way to learn how to draw. sorry, theres no magic tricks you can use for that part.


posted by Jeremiah Palecek @ 10:19 PM



I've been working on a larger painting, so I thought I would give you the step by step as to how I paint. I know you're not supposed to do this, but hey, some of you out there might be interested as to how I paint my larger pieces. Painting isn't really that hard as long as you take it step by step. So, anyway, first I start hunting down different images to collage together. For this painting I wanted to have a 1950s style housewife cooking and a kid pissing in the corner. These were easy to find, and so I slapped them into an kitchen. I use photoshop to make my initial collages, and as you can see, I don't pay much attention to the edges of the different images I cut out. I can fix these up when I start painting them onto the canvas.

posted by Jeremiah Palecek @ 10:03 PM


Friday, February 17, 2006

Biometric portrait

posted by Jeremiah Palecek @ 3:36 PM


Tuesday, February 14, 2006

Terror Nation

posted by Jeremiah Palecek @ 7:47 PM


Monday, February 13, 2006
Poems I wrote while watching tv

poems I wrote while watching tv

Thank you for all of your emails asking where the updates were this week. I really appreciate that I do have people out there who view my blog, and was especially pleased at the random email I received from Germany which simply said "where are updates?? Are you ok?" I can assure you that I am indeed "ok" and I will resume the normal updates tomorrow. I ve been working on some illustration projects for two different books, and thus had to take a break from my normal painting schedule. But please, never hesitate to email me, I love recieving feedback, and can honestly say that this is a driving force that keeps me creating every day. Just for all of you out there, whether you are working in a cubicle, your monitor conveinently tilted away from the view of your boss, trying to pass the time, or sitting at home. I do my best to bring you your daily image to make you laugh, think, and give you a little glimpse into the images which float around in my head. So again. Thank you all so much, and I'll keep on creating as long as you keep logging on.

I have almost finished the cover illustration for Mike Palecek's new book "Terror Nation" which according to Mainstay press' website is a "story of a small-town sports writer who turns his interest to writing letters to the editor after he has retired from the paper. He was once a Reagan Republican but after his wife died he began to hear her voice, perhaps a little stronger than when she was around. He turns his politics 180 degrees. His family — or is it the government — puts him in the local insane asylum not three blocks from his home.



The second project which is finally coming to fruition is a collaboration between myself and writer Travis Jeppesen. Almost a year ago we both realised we were creating similar subject matter. I was making paintings from elements of television stills, and he was writing poetry while watching television. Both of us have transplanted our bodies to Prague, and if you think watching television in America is already surreal, you should experience the strangeness of trying to follow an episode of "friends" dubbed into czech. While neither of us knew each other at the time, we both confronted the absolute mediocrity and normalcy of television with artwork. After stumbling upon our realization that we were drawing our inspiration from the same source we set out to collaborate, and I am proud to say that the book is now available for pre-order. The book will feature over 40 full color reproductions of my paintings as well as over 50 poems and haikus by Jeppesen. A limited edition of only 500 copies will be made available, and "Poems I wrote while watching TV" is the first of a series of books to be published by "Blatt Books" . Blatt's mission statement is the following.

""We hope to be an engine for those interested in
challenging dominant modes of perception, be it in the realm of letters or in visual mediums, or some cross-over between the two. We're interested in artists, writers, thinkers, madmen, skeptics, and skydivers who are creating their own languages, carving out their own systematic approaches to the world that have nothing to do with anything else going on today. We want to be a forum for the voiceless, those who, by dint of artificial barriers such as language or purity of vision, don't fit in with any current trends or cultural definitions. We're into challenging preconceived notions of good and evil. We're young, angry, horny, and persistent. We're fighting a war against the mediocrity that surrounds us. We're here to fuck shit up."

You can pre-order "Poems I wrote while watching tv"


and just to wet your apetite (and because most of you are familiar with my work) here's a sample of one of Jeppesen's poems.



Nebulous Spectre

Pieces of matter transformed into holes.
Leave the pieces at salvation's doorstep.
A million different ways of coming apart now.
It seems like the forevers once knew my sandwich.
Not anymore. So much
Passion in those files, the poisson in our archive,
Our history of lightness.
Deepness dwells inside the running man.
So many different spheres of inactivity competing to combine the two blank factors.
Sanitize backlaunch.
We haven't slept together yet.
My human warmth blues get me down style.
Splurge into forgiveness; the puppet trope's battle.


When the buttock soars…

Present escapes flashes of transplanted genus. Know how
Beneficial icy snatches of paradise can be when you're singing the praises of the whale.
Dark splotches matter deeply.





posted by Jeremiah Palecek @ 1:54 PM


Tuesday, February 07, 2006

in preperation for the big game

posted by Jeremiah Palecek @ 5:25 PM


Friday, February 03, 2006

Half ram half human reading

"Tonight I ask you to pass legislation to prohibit the most egregious abuses of medical research: human cloning in all its forms, creating or implanting embryos for experiments, and creating human-animal hybrids."
George w. Bush, State of the union adress


posted by Jeremiah Palecek @ 5:52 PM


Thursday, February 02, 2006

first meeting

posted by Jeremiah Palecek @ 1:48 PM


Previous Post
Archives
Links
Buy some prints
Say hi, or buy a painting:)
Poems I wrote while watching TV