Hello there.
Hey, I'm Jeremiah Palecek and I like to paint:)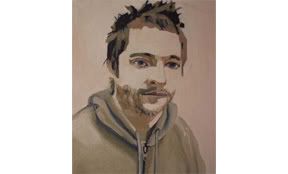 Etsy Stuff

Widgets
Free Hit Counter
Saturday, April 22, 2006

So, the other day I decided that I was going to try and paint a normal still life just to see if I could anymore. I ve worked from photographs, and and painted directly from my computer for so long that I was scared that perhaps I couldn't make a painting from some garlic and onions on a table. So I used my trusty Google image search to look at some Chardin, and Degas. Got some onions and a piece of garlic out of my cuppord, and set them up old school style on a box in my room. I have to admit, it was actually pretty fun dealing with these old problems of space, and color instead of having everything spelled out in a photo. I also feel like I should get my chops back up by doing some really boring paintings, and figure drawings. We'll see how it effects my next painting of Jesus with a condom, or a cannibal eating an arm later. And I assure you, my irreverence will return soon:) I even signed my name on it, hee hee, I feel like a real artist now, I just need the mistresses and some sort of alcohol or drug addiction to bring everything full circle into the "real" life of a guy who paints onions.





posted by Jeremiah Palecek @ 7:00 PM


Thursday, April 20, 2006

rooftops in prague

posted by Jeremiah Palecek @ 6:53 PM


Tuesday, April 11, 2006

biometric portrait

posted by Jeremiah Palecek @ 9:14 PM


Sunday, April 09, 2006

forest

posted by Jeremiah Palecek @ 6:17 PM


Friday, April 07, 2006

Dusk

posted by Jeremiah Palecek @ 5:43 PM


Thursday, April 06, 2006

I was back in my hometown, and had to cross the memorial bridge, but it was shut down, and there were workers in the center of it. I had wanted to walk across it, and there were two seperate paths. I decided to go back, and take a bus across it, the bus went quickly across, and right throught these workers who were welding. The bus was going the wrong way, and it turned out to be more like a tour bus, it went through some weird looking suburbs, and arrived at a large auditorium. I had to pay to get inside, and I could see people inside playing basketball, I waited in line, and just had a bunch of change, but while I was paying there was a lot of money just lying on the table, so I started taking it. I took a bunch of euro, and a ton of these things that more like receipts rather than money, that was from Lithuania. There was a basketball game, and I was wearing a jersey, but I also had long underwear on underneath my jersey. I never got to get into the game, and this was annoying me as I wanted to play. My jacket with al my money had fell behind the bleachers. I went underneath them, to realise that I hadn't been stealing money, but instead receipts.

posted by Jeremiah Palecek @ 5:23 PM


Tuesday, April 04, 2006

So, in honor of the great film "Hostel" (I am the only person I know that actually liked it) I decided to make my friend a hand with two severed fingers for his birthday. Jana helped with the material, and the dangling veins:)

posted by Jeremiah Palecek @ 8:06 PM


Monday, April 03, 2006

road

posted by Jeremiah Palecek @ 5:22 PM


Previous Post
Archives
Links
Buy some prints
Say hi, or buy a painting:)
Poems I wrote while watching TV