Hello there.
Hey, I'm Jeremiah Palecek and I like to paint:)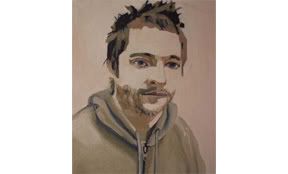 Etsy Stuff

Widgets
Free Hit Counter
Thursday, May 25, 2006
oil on masonite 30cm by 40cm (11.74inches by 15.75inches)
bidding starts at 50$ since im still really happy i got boinged!
heres an article explaining how duck hunt actually knew when you hit a duck. Not exactly the highest technology in the world, but back then, it seemed mind boggling (well, at least I thought so)
http://www.straightdope.com/columns/010511.html


posted by Jeremiah Palecek @ 5:34 PM


Single


Single



posted by Jeremiah Palecek @ 11:33 AM





Last month Travis Jeppesen and myself realeased our first collaboration "poems I wrote while watching tv". It is a ruthlessly implosive meditation on the death of language in a media-saturated world. Poems I Wrote While Watching TV ponders the mundane and the un-nameable with a highly personal mixture of devastation and humor. With over 40 color reproductions from myself. This is Travis' second book, his first being Victims which is available for sale in the right hand links section here.

Critical praise for Jeppesen's first novel Victims

"Infused with schizophrenic logic and a gleefully unique syntax, Travis Jeppesen's debut novel, Victims, reads like a fictional embodiment of outsider art. Its bosky surrealism and anti-authoritarian aura suggest Henry Darger's Realms of the Unreal, and like Adolf Wölfli, Jeppesen has a flair for skewed reasoning and an obsession with internment […] An artfully fractured vision of memory and escape, Victims maintains a rigorous structure throughout—even when the aliens show up." — Michael Miller, Village Voice



posted by Jeremiah Palecek @ 10:47 AM


Tuesday, May 23, 2006

hey hey! get out of my way

I hear youre paying off everybody but the freaking government

lamanski says pay him, or come back with the torch

so you decided tp pay us both, is that it? I didn't know you had so much respect.

nah nah. we got closed down.

you piece of dead meat

ahh! ahhh!

this is what you're gonna look like dead! Don't pay lamanski anymore!

if we torch this joint, you ll be inside it.

get in way again, and I ll kill you

I hope you re not your mothers only child

Raw Deal-1986
Arnold Schwarzenegger plays Mark Kaminsky, a former FBI agent who got kicked out of the agency because he ruffed up a suspect. He winds up being a sheriff of some podunk town in the middle of nowhere. In comes FBI chief Harry Shannon, whose son has been killed by a mobster, he enlists Kaminsky to go and enact revenge in his sons name. He also tells Kaminsky (Schwarzenegger) that if he takes out the mafia boss ( Patrovina ) he'll get his job back at the FBI. So Kaminsky goes undercover and join Patrivina's mob. Mayhem ensues, and he even drives a tow truck through a gambling operation, and kills everyone that gets in his way.

posted by Jeremiah Palecek @ 11:07 AM


Monday, May 22, 2006

Life meter

posted by Jeremiah Palecek @ 3:29 PM


Tuesday, May 16, 2006

ahh, yes, Road Rash will always hold a special place in my heart. When I think of the sega game console, I immediately think of dust, probably because it was black. The ability not only to race, but also to steal cops billy clubs and hit other participants proved to be the exact formula to get me addicted. Plus these early digital landscapes are gorgeous.





posted by Jeremiah Palecek @ 6:43 PM


Monday, May 15, 2006

This is a huge painting I did from counterstrike, measuring 8 feet by 4 feet. The blood explosions seemed so abstract to me, and after blowing a couple people away I know that there was a painting lurking behind the screen.

posted by Jeremiah Palecek @ 6:40 PM


Sunday, May 14, 2006

This is a still taken from the online video game counterstrike. After arriving in Prague I realised there was a huge community of internet cafe nerds who would get together and play counterstrike. After a hiatus from video games, counterstrike was the first multiplayer game I ever played on the internet. Plus it was fun to hear people scream in russian or czech after you sniped them off. Damn campers!





posted by Jeremiah Palecek @ 6:37 PM


Saturday, May 13, 2006

As I have continued to meditate upon my early experiences with video games I have noticed that all of these stills (that I haven't looked at for years) are not only tied to the video game itself, but also reveal a lot of my experience as a child. Sure, perhaps it would have been better if I would have been playing games with friends in my backyard, however when I see this image of joust I remember waking up early in the morning, my parents still asleep on a saturday morning, and removing the old antenna from the back of a black and white tv, and screwing in the co-axial adapter for my atari. Here I would play joust, before my morning ritual of cartoons had begun, the house still quiet, and the sun had still not yet risen. My tv was situated in front of a heating vent, and a green blanket was wrapped around my body. These were my first experiences into the realms of teleprescence. My first avatars. In this painting, I have painted in myself to represent the transcendence into the digital world. Sure, today video games may incorporate virtual reality, but back then, riding around on my ostrich seemed pretty real.

posted by Jeremiah Palecek @ 4:16 PM



here is an image I drew of the coaxial adapter that I would use every morning, after unscrewing the antenna with a butter knife.

posted by Jeremiah Palecek @ 2:33 PM


Friday, May 12, 2006

by re-arranging the common elements of the classic video game "super mario brothers" I ve created a new scene. One that dosn't happen in the game itself. When I think of super mario brothers I still think of the 7-11 I used to play at. Here in the back room behind the magazine rack was where I was introduced to a number of video games including Gauntlet, and Street Fighter. I still can't get the idea of slurpees out of my head whenever I see a still of this game.

posted by Jeremiah Palecek @ 3:20 PM


Wednesday, May 10, 2006

So, the book is now available for sale, I had two concerts this weekend, and finally after finishing up all the preperations for the book "poems I wrote while watching tv" I m finally back to the blog with a new series based on my dreams and early video game technology. May 8th was the anniversary of my blog, and while I didn't make my goal of a painting every day, this last year I made 154 new paintings, drawings, and plushy sculptures. Last night I had a dream I was with a friend, and we were laughing maliciously about our plans to take over the world. I guess thats what I get for watching David Icke before going to sleep. Enjoy, and I hope this next year will bring more updates, and more paintings.

you can read an interview with Travis Jeppesen and myself about our new book here.





posted by Jeremiah Palecek @ 4:25 PM


Previous Post
Archives
Links
Buy some prints
Say hi, or buy a painting:)
Poems I wrote while watching TV