Hello there.
Hey, I'm Jeremiah Palecek and I like to paint:)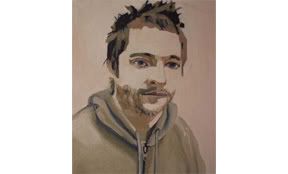 Etsy Stuff

Widgets
Free Hit Counter
Wednesday, June 28, 2006

My brother Justin, and his wife Meredith had their first child in the middle of last night. So, I made a painting for little Celia today. Happy Birthday!

posted by Jeremiah Palecek @ 6:38 PM


Monday, June 26, 2006


Quake




posted by Jeremiah Palecek @ 5:22 PM


Friday, June 23, 2006

On Jupiter's moon something deadly is happening. Sean Connery stars in the sci fi film Outland.

posted by Jeremiah Palecek @ 5:07 PM


Monday, June 19, 2006

I like making flyers for shows, and I spent some time making this one so I ve used it as my entry for today. If you re in Prague, come and see me play blind eye.

posted by Jeremiah Palecek @ 3:57 PM


Sunday, June 18, 2006

Yars' Revenge . This from Wikipedia. Yars' Revenge is a video game developed for the Atari 2600. It is one of the games created for the 2600 system most fondly remembered by enthusiasts. It was created by Howard Scott Warshaw, who also wrote the 2600 titles "Raiders Of The Lost Ark" and "E.T.". Yars' Revenge was Atari's best selling original title for the 2600. The game was released in 1981. In 1999, a Game Boy Color version was developed by Vatical Entertainment and released by Telegames Ltd.

The game began as a licensed port of the Cinematronics arcade game, Star Castle. In the original game, a powerful cannon is protected by three layers of counter-rotating shields. The player must shoot holes in these shields in order to destroy the cannon inside. But once these holes are made, the cannon can also shoot out at the player. If the outermost layer is completely destroyed, new layers of shields are grown. Harassing the player are two free roaming torpedoes that hunt out the player's ship.

posted by Jeremiah Palecek @ 4:35 PM


Saturday, June 17, 2006


"When cultures change so do games" Marshall McLuhan, Understanding Media (1964), p. 211.



posted by Jeremiah Palecek @ 3:11 PM


Friday, June 16, 2006
Check my Archives!

Remember to check my archives where you will find all 160 images I created this last year. The archive links are located in the bottom right corner of the blog.

posted by Jeremiah Palecek @ 4:38 PM


Thursday, June 15, 2006
Life as an avatar

Im back from Berlin, and am now finished with the first part of my tour. So the good news is that I m back in Prague, and painting again.

heres a quick definition of a more ancient meaning for the word avatar based on the ancient vedas.


The 

Avat

ara, or incarnation of Godhead,
   descends from the kingdom of God for [creating
   and maintaining the] material manifestation.
   And the particular form of the Personality of
   Godhead who so descends is called an
   incarnation, or Avatar.  Such incarnations are
   situated in the spiritual world, the kingdom of
   God.    When They descend to the material
   creation, They assume the name 

Avatar

a.
                   ( Chaitanya-caritamrita 2.20.263 -264)



Oil on masonite. 125 Dollars



posted by Jeremiah Palecek @ 2:08 PM


Friday, June 09, 2006

posted by Jeremiah Palecek @ 2:33 PM


Previous Post
Archives
Links
Buy some prints
Say hi, or buy a painting:)
Poems I wrote while watching TV