Hello there.
Hey, I'm Jeremiah Palecek and I like to paint:)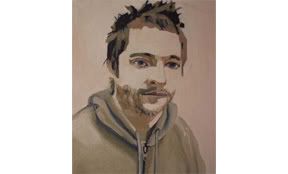 Etsy Stuff

Widgets
Free Hit Counter
Wednesday, September 27, 2006


We will miss you Josh. I'm not going to say give the angels hell, because that's too easy. And kind of lame. fuck. peace bro. (A) is for (E)ffort.
posted by Jeremiah Palecek @ 9:16 PM


Lonely Girl 15 meets He Man


I made a mash up of heman and lonelygirl15. First try at this, but i enjoy working with video, expect more video updates in the future.
posted by Jeremiah Palecek @ 6:23 PM


Tuesday, September 26, 2006

I made a new stencil for a hoodie, it's a tank, and I also had a special visitor who modeled it for me:)

posted by Jeremiah Palecek @ 5:31 PM


Thursday, September 21, 2006

Another mario-corot mash up


Acrylic on masonite. 125 dollars



posted by Jeremiah Palecek @ 7:21 PM


Monday, September 18, 2006

corot super mario brothers mash up

Acrylic on Masonite. 125 Dollars



posted by Jeremiah Palecek @ 7:37 PM


Saturday, September 16, 2006

Pissaro space invaders mash-up


Acrylic on masonite. 125 Dollars



posted by Jeremiah Palecek @ 9:02 PM


Friday, September 15, 2006

Zork

Oil on Masonite. 125 Dollars



posted by Jeremiah Palecek @ 5:09 PM


Thursday, September 14, 2006

excite bike


Oil on masonite. 125 Dollars



posted by Jeremiah Palecek @ 7:26 PM


Step by Step painting, Lonelygirl15


Watch how I block in a painting, in this video I made a painting of Lonelygirl15. I know, I know, she's a fake. But I still like you lonelygirl:)
posted by Jeremiah Palecek @ 12:15 AM


Sunday, September 03, 2006

a pixelated drawing from Doom

posted by Jeremiah Palecek @ 5:43 PM


Previous Post
Archives
Links
Buy some prints
Say hi, or buy a painting:)
Poems I wrote while watching TV