Hello there.
Hey, I'm Jeremiah Palecek and I like to paint:)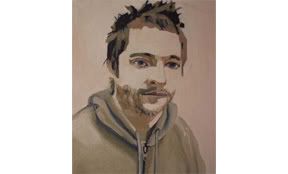 Etsy Stuff

Widgets
Free Hit Counter
Sunday, October 22, 2006
How to make an origami paper crane


Starting off with a square piece of paper. Your first fold will be to turn the square into a triangle by folding the piece of paper in half.




this is how your triangle will look




Now, you're going to take your triangle, and fold it in half once again to make a smaller triangle




now, you've got a smaller triangle. See the opening underneath the top section of paper. Your going to fold that out into a square on both sides.




by putting your finger on the inside, and to the back of the triangle, you can fold that triangle into a square.




now you've got a square on one side, and you're about to turn it over to make what looks like a shark fin on the other:)




See that opening on the shark fin? stick your finger in there, and flatten out the fin in order to make a sqaure on the other side.




see, now you've got a square on both sides with an opening on each side. The next step is a bit tricky. You're going to turn that square into what looks like an ice cream cone by folding the edges of the square inside to the center. You want the tip of the bottom of the cone to be the side that has an opening on it.




just fold those corners to the center.




see, now you've got half of your ice cream cone. Do the same to the other side now.




take the top triangle part (where the actual ice cream would be on the cone) and fold it back and forth. This is just a helper fold, but you'll see why you need to do this in the next step.




Now, you need to open up the previous folds of your cone so it looks like this.




putting your finger into the opening at the bottom of the cone, what you're going to do is push the inside up to make a diamond, this is a bit tricky at first.




see, now you've got your diamond. Repeat this step on the other side. It's like a diamond that has little legs on the bottom. The next step will be to make a helper fold with those little legs.




You're going to now take one of those legs and fold it at an angle up towards the top of the cone. This is just a helper fold, your about to turn that leg into the neck of the crane.




This is probably the hardest fold to understand. What you're going to do is to take that leg and open it up along the side of the cone, and push it upwards, and inside out.




See, now you've got the neck of your crane. Repeat these last step on the other side as well.




Now, all you have to do is bend the end of the neck down a bit to form the beak.




And now you've got you're crane:)
posted by Jeremiah Palecek @ 7:06 PM


Saturday, October 21, 2006
the entire last year of painting as a video


here's a video i made of some of the 213 images i ve made over the last year. Enjoy:)
posted by Jeremiah Palecek @ 3:21 PM


Friday, October 20, 2006

One of my grandmothers paintings



This is a painting my grandmother did around 1967. It is entitled "creation" and is a large oil painting on masonite. Measuring more than 6 feet wide, this was the painting one first saw when walking into her house in rural Kansas. Her name was Frantiska Brzon Palecek, and she was a strong supporter of science, and evolution. While the painting is entitled creation, the painting had much more to do with amino acids forming into proteins than any ethereal cloud being. I m sure that my early trips to my grandmother's house (which doubled as her own personal gallery) were influential in my own interest and early development as an artist. She was not professionally trained, and started painting very late in life, nonetheless, she made some beautiful paintings that I will be posting alongside my new works.
posted by Jeremiah Palecek @ 6:14 PM


Thursday, October 19, 2006
Fuck You, I won't do what you tell me!

The term "mook" is an advertising industry word which denotes a certain type of character which is easily marketed towards teenage males. Tom Green, The Characters of Jackass, and the South Park characters are all examples of mooks. Mooks many times have an attitude that exudes an ideology of "I don't give a fuck of what you think about me". Mooks are predominantly anti-everything, the idea of a mook being involved in politics, religion, or politically correct terms is totally foreign to their universe.

Mooks do come in different forms, and it's important to differentiate the different worlds in which they inhabit. For instance, there are some mooks which wish to be counter-cultural in their dress, music, videogames, and sexuality. These types of mooks would be more geared towards the music of marilyn manson, gothic dress, and black eyeliner on both men and women. While the message, and its popularity remains the same (Fuck everyone, but me) the way it's marketed must evolve in order to capture this section of the market.

One of the most succesful things captured by the advertising industry was the skateboard. Once, a symbol of countercultural individuality, freedom, and punk rock music (suicidal tendencies, and dead kennedies being the most important of these), the skateboard was succesfully co-opted by mass media to sell everything from mountain dew, shoes, and hoodies, to films, music, and even christianity. The marketing of the skateboard read directly into risk taking behavoir of teenagers, combined with a "fuck the system" sort of attitude. It was perfect, and the fact that the characters of jackass were also accomplished skaters was no accident.

The american-male-heterosexual-teenager is the most powerful force in advertising, with young males spending more money than even their shopaholic female counterparts. However a problem arose because corporations are generally full of old bureaucrats who were out of touch with youth culture. This was remedied rather quickly, and now young american teenagers are paid up to 150 dollars an hour simply to talk about what they think is cool. The term for this practice of focus grouping is called "trendspotting" or "coolhunting". So there is a sort of democracy involved in the process. In a sense, the mooks are driving, and choosing what they want marketed to them.

In this installation I give an inside look into the most cherished private space of a young male:his bedroom. A boys bedroom will tell a lot about his personal decisions, as well as the final step in the marketing process directed towards them. I have chosen to appraoch the imagery as cultural iconography, and this is why I repaint, or redraw every poster, or image held within it. I also chose to use different time periods in the project in order to give a larger thematic whole that goes back many years. The viewers have the oppurtunity to sample music, as well as play video games which will afford the viewer a glimpse into this world in which many teenage boys have, and still do inhabit.

and the czech version

Jdi do prdele, neudělám, co mi říkáš


Anglický výraz "mook" představuje v reklamním světě určitý typ člověka, který je blízký a tak snadno prodejný především chlapeckým teenagerům. Tom Green, postavy z pořadů Jackass a South Park jsou právě takovými příklady "mooks". "Mooks" často zaujímají postoj "seru na to, co si o mně myslíte " a staví se proti všemu. Politika, náboženství či snad politicky korektní termíny jsou jim v jejich světě cizí.

"Mooks" se objevují v několika podobách a je tedy důležité rozlišit různé světy, které obývají. Například jsou takoví, kteří se chtějí stavět antikulturními a vyjadřují to oblečením, hudbou, videohrami či sexualitou. Tyto typy by byly přitahovány hudbou Marilyna Mansona, gotickým oblečením a černou oční linkou, kterou by si malovalo jak ženské tak i mužské pohlaví. Jejich oblíbený přístup "seru na všechny mimo sebe" zůstává neměnný, ale způsob kterým se zajistí odbyt na trhu, se musí rozvinout tak, aby se pokryla tato sekce prodeje.

Jednou z nejúspěšnějších věcí, které se zmocnil reklamní průmysl, byl skateboard. Kdysi symbol antikulturního individualismu, svobody a punk rock muziky (skupiny Sebevražedné Sklony a Mrtví Kennedyové se řadí k nejdůležitějším v tomto žánru), skateboard byl úspěšně kooptovaný hromadnými sdělovacími prostředky, aby se prodalo vše od Coly, bot, mikin s kapucou až po filmy, hudbu a dokonce i křesťanství. Prodej skateboardu měl za následek spojení chování teenagerů s postojem "seru na systém". Bylo to dokonalé a fakt, že představitelé show Jackass jsou také uznávaní "skejťáci" není náhodný.

Americký heterosexuální teenager mužského pohlaví je nejmocnější silou v reklamě. Tito mladíci utratí více peněz než jejich nakupováním posedlé ženské protějšky. Nicméně objevil se problém. Obchodní společnosti jsou přeplněny starými byrokraty, kteří mají daleko k této mladé kultuře. Naštěstí se tato situace vyřešila velmi záhy a v současné době si mladí američtí teenageři přijdou i na 150 dolarů za hodinu, když jen mluví o tom, co si myslí, že je "cool".
"Coolhunting" tedy "honba za tím, co je "cool" je termín, který označuje zmíněnou činnost. V tomto procesu je určitá demokracie. "Mooks" si vlastně řídí výběr toho, co chtějí, aby se jim prodávalo.

V této instalaci nabízím vnitřní pohled do nejsoukromějšího místa mladého muže: jeho ložnice. Chlapecká ložnice řekne mnoho o jeho osobních rozhodnutích stejně tak jako o konečném výsledku procesu prodeje a nákupu, který k nim vede. Vybral jsem si přiblížení se fantazii jako kulturní ikonografii, a proto jsem přemaloval nebo překreslil každý plakát nebo představu skrývající se uvnitř. Také jsem zvolil různá časová období, abych rozšířil tematický celek, který se vrací o mnoho let zpátky. Návštěvníci mají příležitost poslechnout si písničku nebo si mohou zahrát videohru. To jim umožní nahlédnout do teenagerovského světa, který tito chlapci obývají.
posted by Jeremiah Palecek @ 4:11 PM



Wolverine. Another poster for the upcoming installation.

posted by Jeremiah Palecek @ 2:51 PM



Marijuana poster for the upcoming installation.

posted by Jeremiah Palecek @ 2:51 PM



bikini girl. Another poster for the upcoming installation.

posted by Jeremiah Palecek @ 2:49 PM


Monday, October 16, 2006

Im currently working on a series of posters for my upcoming installation. I m going to be re-creating a 15 year old males room. Here we have a great icon of young male heterosexual prowess and aggression, Eminem.

posted by Jeremiah Palecek @ 9:24 PM


Thursday, October 12, 2006
New King Vitaman video
posted by Jeremiah Palecek @ 6:07 PM


Wednesday, October 11, 2006

Here's a preview of the wallpaper pattern I will be using for my installation. It was quite easy to make, and you can view my tutorial on how to make a stencil in the archive section of this blog, in the month of october. Here I go step by step through my method of how to make a stencil on a t-shirt.:)

posted by Jeremiah Palecek @ 9:08 PM



Robopope sees all, and is all knowing. I ve been working on an installation for the last few weeks, I ll start posting bits and pieces of this project which is to be finalised by november 3rd.

posted by Jeremiah Palecek @ 8:30 PM


Previous Post
Archives
Links
Buy some prints
Say hi, or buy a painting:)
Poems I wrote while watching TV