Hello there.
Hey, I'm Jeremiah Palecek and I like to paint:)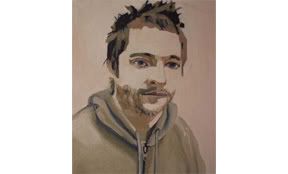 Etsy Stuff

Widgets
Free Hit Counter
Friday, March 16, 2007
Self Portrait with Television


As you can see I ve been making a lot of changes to my blog so updates have been slow. I ve got to get my cute little shopping carts and everything to make purchasing things easier. In the meantime I ll post a few of my older paintings. I did this while I was living in Arizona in 2001.
posted by Jeremiah Palecek @ 2:02 PM


Previous Post
Archives
Links
Buy some prints
Say hi, or buy a painting:)
Poems I wrote while watching TV